Today we've got a video on how to use name.com's URL forwarding features. In short, URL forwarding allows you to redirect users from your domain to another website.
You might think, "Not too exciting," right? WELL YOU'RE WRONG. Here are a few useful ways to take advantage of URL forwarding:
Aliases for generated URLs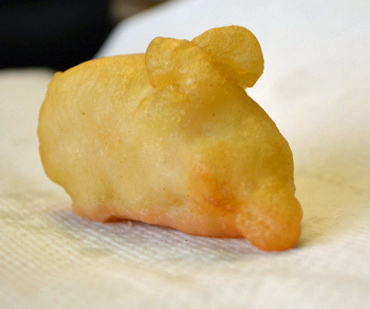 Pretend you have something really cool that you want to sell on eBay, like a mouse-shaped chicken nugget (seriously). Now you want to promote your mouse-nugget auction. Which URL are people more likely to remember?
Option A: http://www.ebay.com/itm/Mouse-Shaped-Chicken-Nugget-One-of-a-Kind-/181097877797?
Option B: www.mousenugget.com
The choice is clear, right? If you purchase a simple domain name and set it to forward to the eBay listing, it'll be much easier to tell people about the rodent-shaped piece of fried chicken that you're selling on the internet.
Social media sites, blogging platforms, Craigslist, real estate websites, Google Maps, YouTube, and tons of other services all create long, indecipherable links. URL forwarding makes sharing those links easy.
Moving to a new domain
If you've moved your site to a new domain, you can use URL forwarding so that people familiar with the previous domain can still find your site. It's pretty frustrating to end up at a dead link. VideoGames.com became GameSpot.com in 1998, and to this day VideoGames.com is a forwarding URL.
Forwarding from similar domains
Let's say someone wants to visit your site, but they don't quite remember the URL, or they've got fat fingers and they just type it incorrectly. If you can anticipate the incorrect URLs that a user might type, you can purchase those domains and have them redirect to your intended website.
Similarly, you can purchase multiple TLDs and have them redirect to the same website. So yourwebsite.net, yourwebsite.com, and yourwebsite.org could all send a user to the same place.
If you want more of the nitty gritty details on URL forwarding, here's a tutorial from our support team.