Start your domain name search
.io
.studio
.live
.info
.pro
.io, .studio, .live, .info, or .pro domains free with Google Workspace
Name.com's Domain Name Checker
Discover your perfect domain name with Name.com's domain name checker, a powerful domain search tool designed to help you make a lasting impression online. Simply enter your desired domain name, and if it's taken, don't worry! We'll suggest captivating alternatives to ensure you find the ideal fit. From premium to expiring domain names, our domain checker offers a treasure trove of options, making your search for the dream domain a breeze.
Name.com offers over 44 domains free with any Google Workspace product. Simply look for the
while searching for your domain.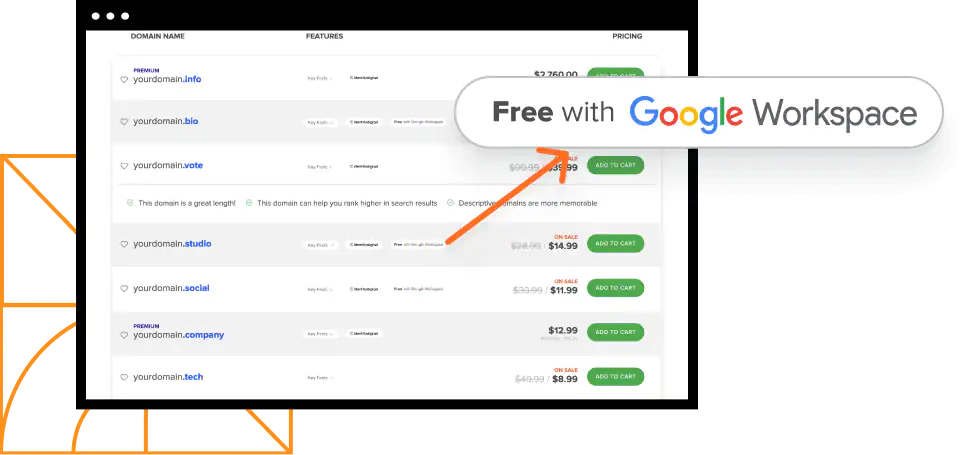 Check domain name availability
Get to know the most prominent top-level domains
(TLDs)
Before you use the custom domain name checker to find the best domain name for you, get to know the most common TLDs you may encounter in the wild. These include the following types of domain extensions:

---
Good for businesses, blogs, social networks, and all websites under the internet sun.

---
An extremely versatile domain name, representing anything you want to sell.

---
The perfect domain name to establish your credibility as an organization that makes a difference in the world.

---
The ideal domain for personal websites, this site is all about you.

---
Perfect domain name extension for commercial ventures and savvy professionals.

---
This is great for connecting a brick-and-mortar business to the online world.

---
Host streaming video, promote your band, and more with this domain.
Why choose Name.com?
Free products & services when you register
Name.com offers more for less, with free perks like URL and email forwarding to sophisticated account features like Two-Step Verification and DNS server templates.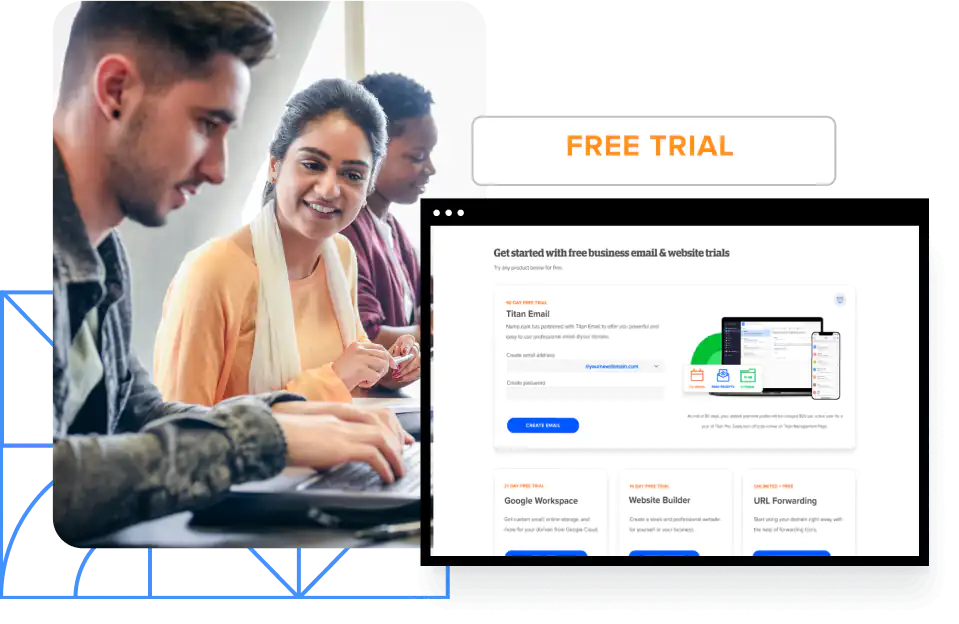 Fair, transparent pricing
We clearly display new domain discounts and renewal pricing during the domain search process so there are no nasty surprises when your domain's renewal comes up.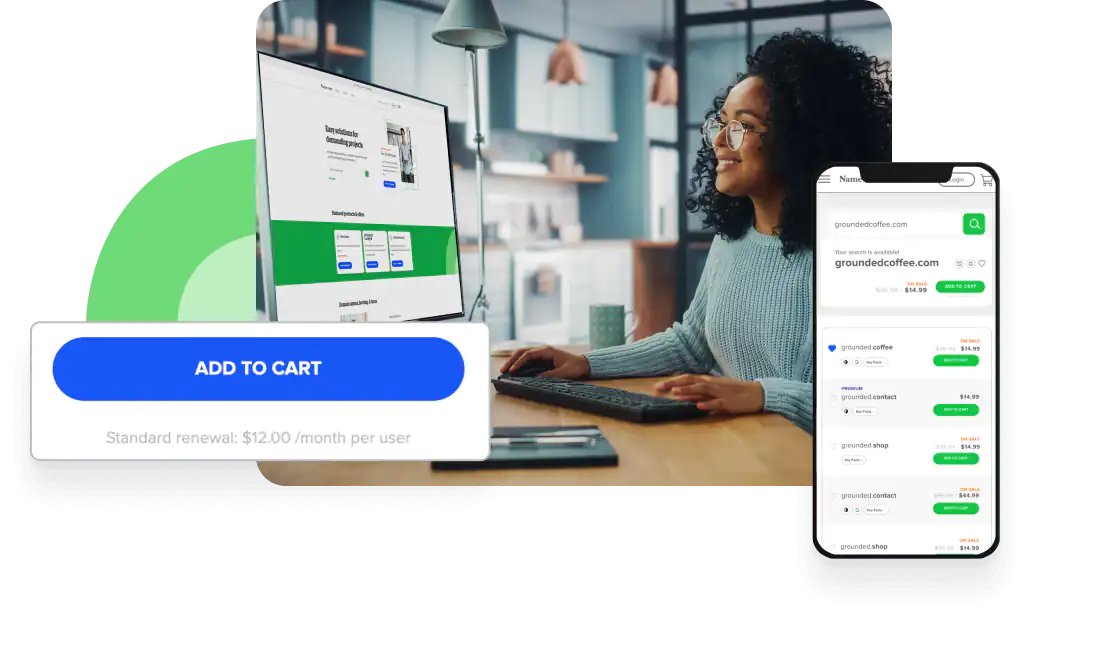 Everything in one place
Once you have a desired domain in hand, we make it simple to attach email, hosting, website builders, and more. It's everything you need in one convenient place.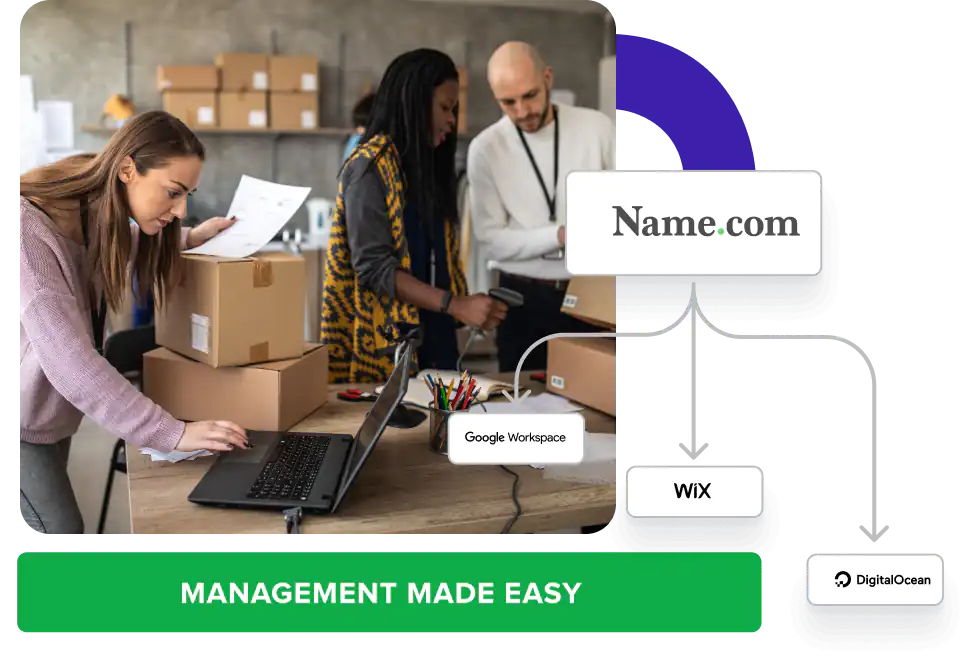 Your trusted registrar
We've been in business since 2003, and we've grown into one of the web's largest and most trusted domain registrars. We've registered millions of domains and offer more than 300 top-level domain extensions. You can rest assured that when you check domain availability through us, we leave no stone unturned.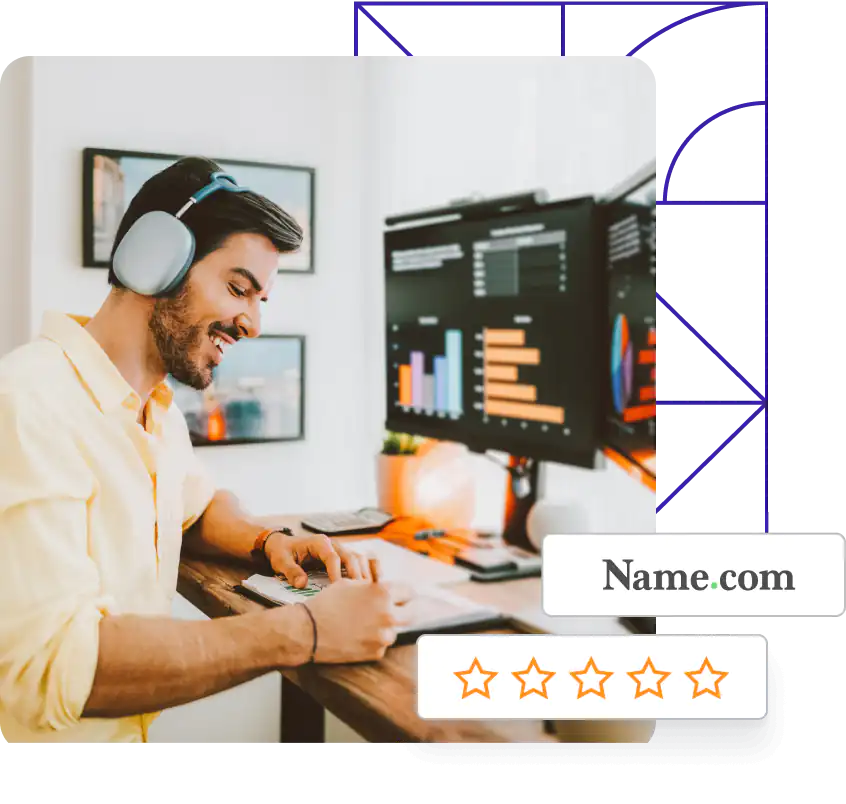 Setup and maintenance made simple
When you work with us, you can do more than simply register your new domain. We'll be there to support you every step of the way with our email products, easy-to-use website builder tool and comprehensive hosting services.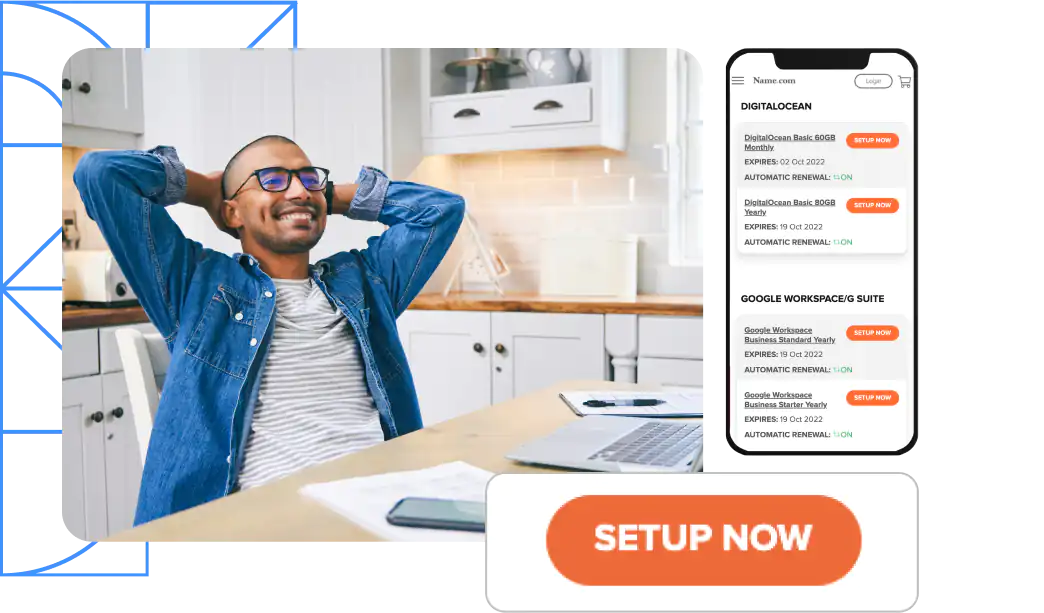 Dedicated support
Our dedicated support team is available to live chat from 12AM - 5PM MST, with automated support backup to ensure your site is always up and running. We also offer a wide range of resources including online guides, tutorials, and FAQs.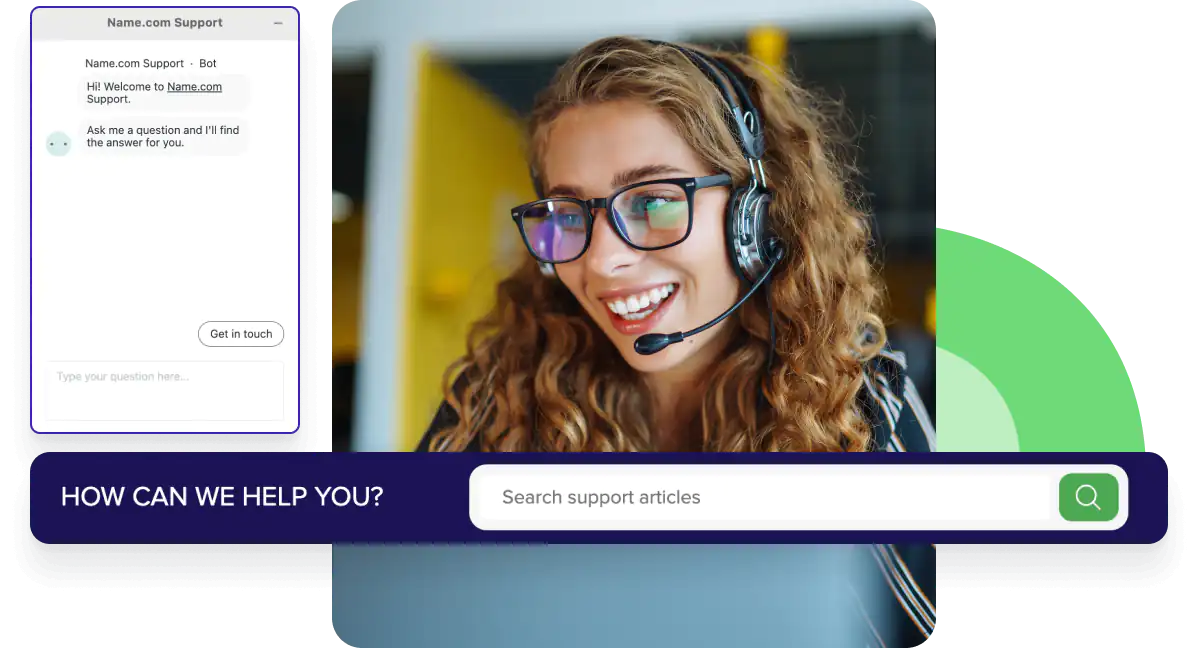 Keeping your domains safe and secure
We go above and beyond to ensure the privacy and security of your sites and the information others share with them. We can provide SSL certificates to meet varying needs, as well as complete protection through SiteLock. We offer various plans that all include risk assessment, complete malware scanning, and a verifiable trust seal to instill confidence in your visitors. When you register a site with us, we do whatever it takes to keep your data safe.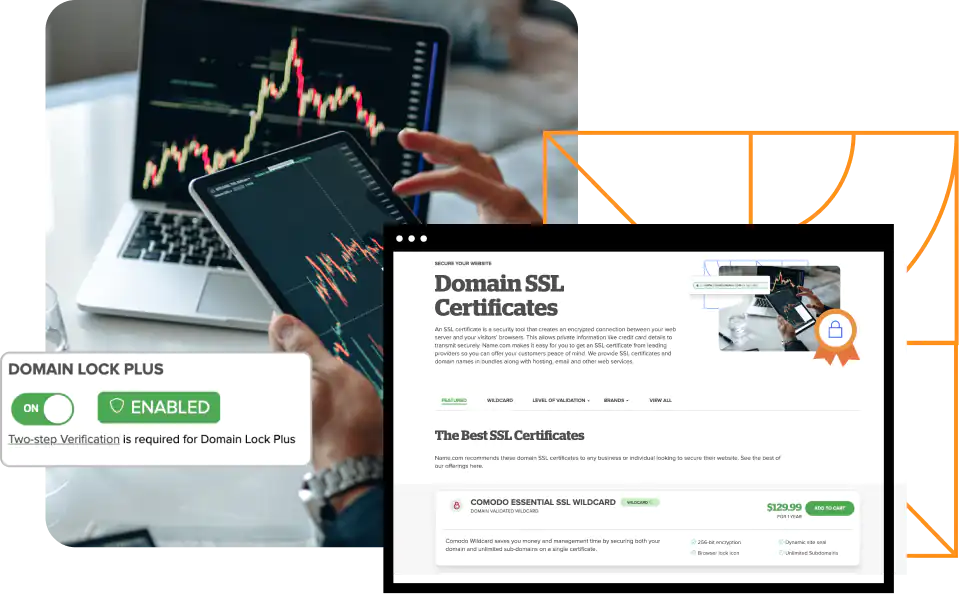 30 Day Free Trial with any domain purchase
Titan Pro free email
Name.com has partnered with Titan Email to offer you powerful and easy to use professional email @yourdomain. Claim this 30 day free trial on the order confirmation page or on the domain management page after any domain purchase.
FAQs
Why is a domain name important?

Getting the right domain name for your online presence is critical. Make sure you're always making a great first impression with the perfect domain name with Name.com's comprehensive domain name search. With our domain search, you can find the perfect domain extension, check domain availability, and drive more traffic your way by starting your domain registration process. Name.com offers over 44 free domains with any Google Workspace product. Simply look for the Google Workspace logo while searching for your desired domain.
How do I find the best available domain name?

If you have an idea for the name you want, start by searching for that. If the name isn't available, we'll show you our best recommendations for similar, available domain names. Or, if you don't have a specific domain name in mind, just type in keywords that describe your website or project, hit search, and check out the multiple domain name suggestions.
What do I do if the website name I want is taken?

If the domain name you want is already registered, you have a few options. First, check out the recommended, similar domain names in your search results to see if one of those works. You should also consider an available domain name with an extension other than .COM, such as .IO, .CLUB, or .ROCKS. There are hundreds of new TLDs to consider. If you're really set on securing your first choice of domain, find the current registrant using Whois Lookup and see if they are willing to sell it. Learn more at What to do if the domain you want is taken.
How do I know if the domain I want is a Premium domain name?

When searching for domain names, the word "Premium" will occasionally appear above Premium names on the search result page. Premium names are available for purchase, but they typically cost more than non-Premium names. Learn more about Premium domain names
How do I search for expired domain names?

"Expiring domain names" are just what they sound like: Domain names that were unavailable because they were already registered but are about to expire, making the website name available for purchase again. You can search for expiring domain names using keywords or you can check the list of about-to-expire names. Search domains expiring now
How do I buy a domain name?

Congrats! You found an available name and you're ready to make it yours. Simply add the domain name to your cart and start the checkout process. During checkout, you'll make some decisions like how many years you'd like to register it for, if you'd like to add site hosting, email, advanced security, auto-renewals, and other features.