Scott McBreen, our Domain Name Guru Guy, laid it out pretty plainly. I asked him why we have so many ccTLDs and he replied, "Because we serve an international customer base." When you think about it, that's a pretty obvious answer, however, it's not the standard throughout the industry. Many domain name registrars have a pretty small stable of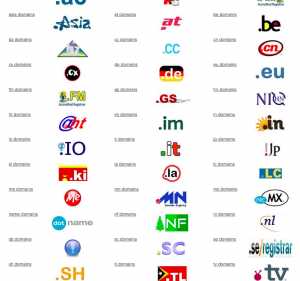 domain names. They claim that too many ccTLDs mean too many different international registries and too much back-end web development to host them all. What we see is that all that hard work is worth the investment to be a major player with domains like .ASIA, an extension integral to online addresses in the fastest growing countries; .DE, Germany's longstanding and burgeoning domain; and .IN, India's answer to COM/NET that can be owned anywhere in the world.
The list of ccTLDs may be surprising. The island nation of Tuvalu is home to .TV, .CAT is meant to highlight the Catalan language and culture, and .CX is the domain extension to the Christmas Islands. We have those and dozens more. While many of the ccTLDs can only be purchased if you have an entity, or an address for an entity or organization, within their respective countries, some can be purchased globally. .SO, for example, is the country domain name of Somalia, yet like .IN it can be purchased from anywhere in the world. That's something to keep in mind when defensively registering your trademark, or to find the best available domain (short and memorable) for your businesses, hobbies and ideas.
Aside from some occasional diplomatic moments with international domain registries, and the web dev team working late to get the latest ccTLD functioning on the back end, our one other job is to get the word out about our many valuable ccTLDs. If you have some ideas, let us know. Otherwise, look to name.com for your next international domain name. We're doing our best to support the world that supports us.