A lot of scary words get tossed around when you start creating your first website: SSL certificates, VAT IDs, name servers. And then there are DNS records: Those mysterious things that you know are super important but you just can't wrap your head around what they are—much less manage them. And worst of all, some companies (we won't name names!) charge you for it every month.
But you don't have to be an internet guru to have and manage your own website. Getting online should be easy. That's why Name.com has free DNS tools that can make all those scary, confusing internet things a little less frightening.
What the heck is a DNS record?
DNS is short for Domain Name System, a network that organizes and connects domain names to IP addresses on the web. So rather than having to type in a numeric address whenever you want to visit a website, DNS records allow you to type in an alphabetic one, like www.yoursite.com.
There are several different types of DNS records that are responsible for directing subdomains to different servers on your main site. These include MX (or Mail Exchange) records, which direct your emails to the right server; CNAME (Canonical Name) records, which direct subdomains to a different domain name; and TXT (Text) records that are used to connect plain text with a domain.
Still confused? We have good news
If you still can't wrap your head around all this DNS stuff, you're in luck. Name.com's DNS services are free with every domain registered with us. And better yet, we've made them super simple for you to use.
Our DNS templates offer a cheat sheet for anyone who uses web platforms like WordPress or SquareSpace on their website. All you have to do is go to your My Domains page and click on the domain you want to edit the DNS record for. Click DNS Templates to see the available presets.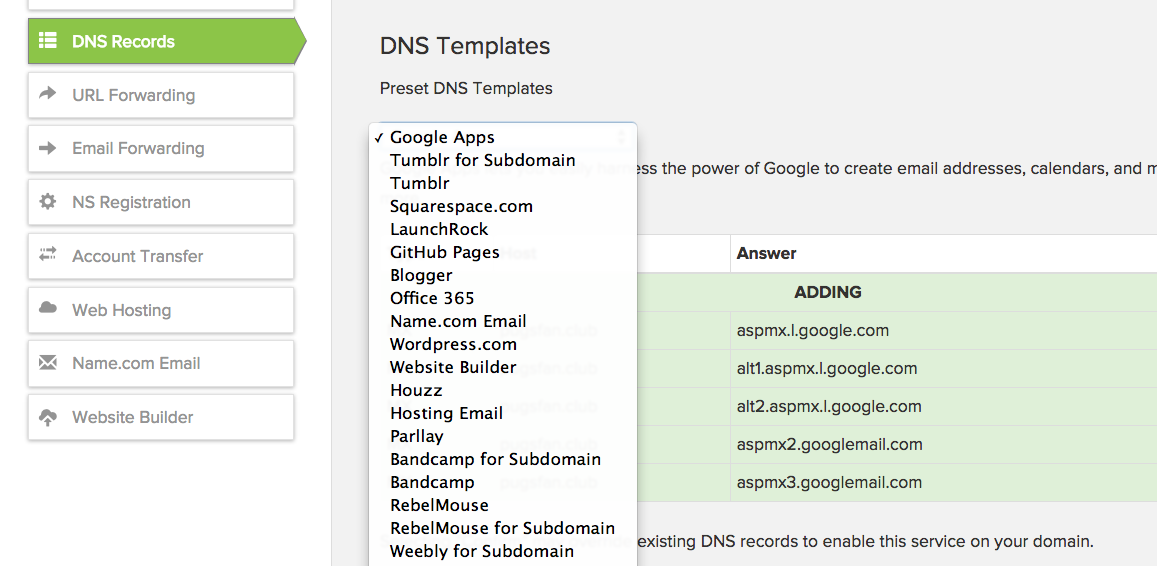 And if you still get stuck or want to ask questions, our incredible Customer Support team is here to help you out. Believe me—they've got this DNS stuff down.
Simple to use DNS services with zero cost: It's just one more way Name.com makes getting online easy.