A dedicated IP address may be necessary for certain users on shared hosting plans. It's an add-on hosting product that is beneficial for businesses or individuals experiencing high levels of website traffic or who need regular access to their website FTP. Use this guide to determine if a dedicated IP address suits your needs.
What is an IP address?
An IP address is an Internet Protocol address for your network hardware. It is a unique numerical label that is used to connect your computer to local devices or internet locations around the world. In the context of hosting, your IP address is used to provide the exact location of your website in a network so that users can access it.
Understanding the difference between a shared IP and dedicated IP
Those with a shared hosting plan uses the same IP address as anyone else on the same server of the same hosting plan. Typically this is not a big deal, but if your website has very high traffic the arrangement might not be ideal.
When multiple websites try to use the same IP address to connect to the same server, some parsing is required to correctly identify what content to serve to the incoming user based on the web address. A dedicated IP address gives direct access to the server, decreasing website load time for a quicker connection.
Rather than moving your entire website to a dedicated hosting server, switching to a dedicated IP can alleviate many of these issues at a lower cost.
Do I need a dedicated IP address?
High levels of website traffic are not the only reason to use a dedicated IP address. You should also consider using a dedicated IP address if any of the following apply to you:
You want to decrease the load time for your site
You do not want to deal with the hassle of moving to a dedicated hosting server
You regularly access your site's FTP
You're using website software that requires a dedicated IP
You need the ability to view or edit your website via web browser
You want to potentially increase the reputation of hosted email addresses
How to add a dedicated IP address for hosting
Although Name.com does not currently offer dedicated hosting, you can set up a dedicated IP address to reduce the growing pains you might feel with shared hosting. This is an optional upgrade for those using our web hosting. If you'd like to set up a dedicated IP for your site, log into your Name.com account and go to your hosting dashboard via the My Products tab. On the Web Hosting dashboard, you'll see a link with the option to Upgrade Dedicated IP. Click the link to add the product to your cart, then check out like you normally would.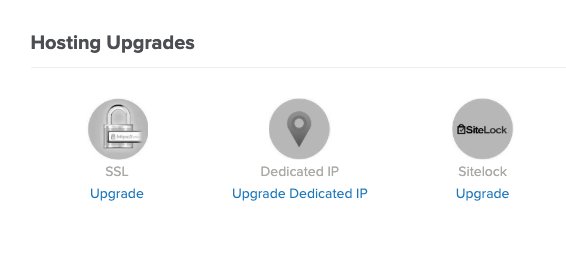 If you use Name.com name servers, the dedicated IP will immediately go into effect and update your DNS records on your behalf. But please note that if you use name servers other than Name.com's, you will need to manually update your DNS records to reflect your dedicated IP.
Is a dedicated IP required to install an SSL certificate?
While a dedicated IP might be required by some hosting providers to use an SSL certificate, it is not a requirement at Name.com. Users can install SSL certificates on our website hosting, one-page website, and website builder products without a dedicated IP address.
How can I tell if I'm using a shared or dedicated IP address?
If you're not sure if you are already using a dedicated IP for your Name.com hosting, there's a simple way to check. Log into your Name.com account and access your web hosting plan via the My Products tab. In the Hosting Upgrades section of your dashboard, you'll see circular icons.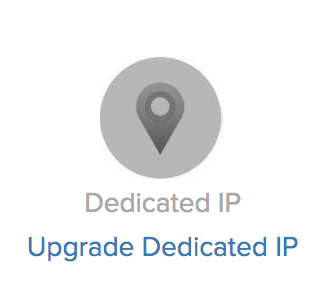 If the dedicated IP icon is greyed out, you do not have the product but you have the option of setting it up with the Upgrade button.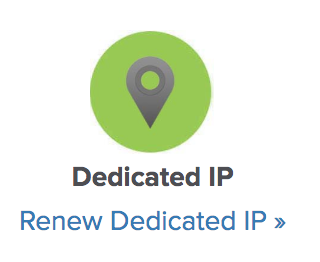 If the icon is green, you do have a dedicated IP for your hosting plan and the IP address will be listed below.
Conclusion
If your website is experiencing growing pains, moving to dedicated hosting is not the only solution. A dedicated IP address can relieve many of the struggles your website may face, so setting one up is a logical next step. With lower costs and effort required, it's the perfect solution for a growing business or website.