The domain lock is an added layer of security to guard against unauthorized domain transfers. You can lock or unlock your domain by following the instructions below:
How to lock/unlock a domain
Log in to your

Name.com

account.

Click on the

MY DOMAINS

link, located in the top right of the navigation.

Click the Padlock icon to Lock or Unlock.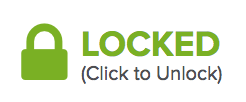 This only affects transfers, so it is best to leave a domain name locked unless you are about to transfer it to another registrar. 
Why won't my domain name unlock?
ICANN, the group that regulates the distribution of domain names, has a very strict rule that domain names cannot be transferred to another registrar within 60 days of the date they were registered or transferred to a new registrar. This is done to prevent fraud. Unfortunately, since this is an ICANN rule, and not a Name.com rule, there is no way we can remove the 60-day hold.
The good news is that you can fully use your site while the domain name is locked. Your hosting provider or website builder will give you either name servers or DNS records to point the domain name. 
Note: A domain name can be unlocked after 5 days when internally transferring to another Name.com account.