.INC is a new top-level domain that is perfect for business. Big brands have already registered their .INC domains, including Gap.inc, Fox.inc, PayPal.inc, along with 20% of Forbes "Most Valuable" brands.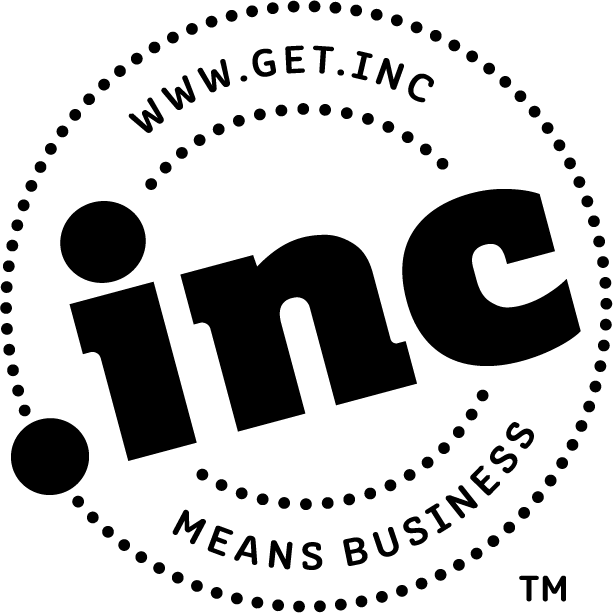 The TLD creates new opportunities for exact match domain names, is valuable for brand protection, and is a logical option for any incorporated business. At $1,999 for the first year, .INC domains are an investment, but each registration also includes $2,500 in member benefits:
Free base formation, name check, tax ID, & Minutes and Bylaws ($238 value) from LegalZoom
$1,000 in transaction fee credits from Square
VIP pricing and free shipping from VistaPrint
A free G Suite account when you register .INC at Name.com (we'll provide the promo code)
Additional bonuses from Google, Delta, Indeed, Quickbooks, and more.
.INC also operates with a flat pricing structure. Highly-sought business keywords on traditional gTLDs often result in five- or six-figure premium prices, but all .INC domains are the same price.
How to choose your business domain with .INC
Make it short and sweet: To achieve a memorable domain name, aim for something short and do your best to avoid hyphens and numbers. A shorter domain can also help your Google ranking. For instance, Collab.inc upgraded their domain from CollabCreators.com earlier this year and is now ranking #1 in Google—even above Collab.com! Company initials are also a popular upgrade for businesses with long domains and email addresses. Virtual Law Partners recently upgraded to VLP.inc.
Use industry keywords: Use industry keywords or locations in your domain name if possible. Utilizing your industry and/or location will improve your Google search ranking. Alarm.com recently registered Video.inc, Security.inc, and Alert.inc to help them own the security space online. Some available industry keywords: Hybrids.inc, CPA.inc, Resorts.inc, Lawyers.inc, Electronics.inc, TV.inc, Biotech.inc, Taxes.inc, Condos.inc, Auctions.inc, Cameras.inc and IoT.inc.
Do your research: Make sure you do an ample amount of research. Look up your competition and see how they're branding themselves. A trend today is to get creative with company domains because many domains on traditional gTLDs are not available. But try to stay on brand and choose a TLD that ranks internationally in Google. For example, Openly Inc. recently upgraded their domain from OpenlyInsured.com to Openly.inc and now ranks #1 internationally in Google search results above other sites like Open.ly (because .ly is a ccTLD and doesn't rank internationally in Google).
Make sure you own it: Register yourself as the owner of the domain name. It's important to ensure yourself as the administrative contact and domain owner of your own business. Think of your domain as property, if you're not listed as the owner it will be much more difficult to prove you own it at a later date.
Think big: Businesses are using domains for customer-facing sites, corporate sites, investor relations pages, new ventures, corporate emails, employee portals, and more. Some businesses are using .COM as their customer-facing site and .INC as their corporate site, housing all of their corporate and investor relations information in one place with a simple, well-branded domain. Freshii is a great example of this, they recently purchased Freshii.inc to host their corporate site (previously ir.freshii.com) and now rank #1 in Google for "Freshii Corporate". Don't miss an opportunity that could help your business grow and succeed in the future.
Sourcing the perfect domain doesn't need to be daunting, just follow these tips and choose the domain that fits your business best. Then search and source the right .INC domain for your business.